Banská Bystrica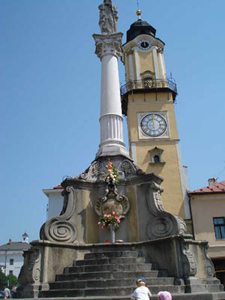 Find out more about Banska Bystrica
| | |
| --- | --- |
| Region | Banska Bystrica region, Horehronie |
| Location | Central Slovakia |
| Inhabitants | 84,919 |
| Area | 103 km2 |
| River | Hron river |
| City parts | Iliaš, Jakub, Kostiviarska, Podlavice, Majer, Kráľová, Kremnička, Senica, Uľanka, Šalková, Skubín, Radvaň, Rakytovce, Rudlová, Sásová |
| Transportation | trolleybus, bus, citybus |
Banská Bystrica lies on the Hron River in the heart of Slovakia. It is located in the Zvolenská Basin surrounded by the mountain chains: the Staré Hory Mountains, Poľana and the Kremnica Mountains.
The first written record dates back to 1255. Banská Bystrica used to be a rich mining town and even today its beauty attracts many tourists.
Historical monuments as the Town Hall or noblemen's mansions are situated in the centre. The Memorial of the Slovak National Uprising and the City Castle with the remains of its original fortifications– a barbican protecting the main gate to the castle, are situated on the SNP Square. There is an open-air exhibition of World War II tanks, artillery, aircraft and armored trains situated in the city park next to the SNP Museum.
Banská Bystrica is situated just the half-way between Bratislava and Košice, very close to the Low Tatras National Park. Its strategic position in a close vicinity of the mountains offers the opportunity for visitors to experience sports, cultural, and social events all year long.